Save Time, Resources & Eliminate Errors with Outsourced Printing & Mailing.

Offering the highest level of security and compliance, BerkOne's unique combination of state-of-the-art equipment coupled with our highly experienced staff means jobs are printed right the first time. Then delivered to your customers on time.
Bob Fehnel, Director, BerkOne Print & Mail Services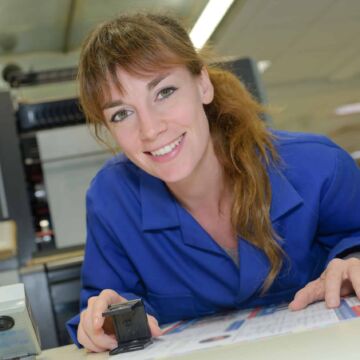 Why Partner with BerkOne?
Specialty: Full-color variable printing and mailing. Hundreds of clients from the public and private sectors outsource their daily printing and mailing needs to our department and tap into our expertise for customized projects. Our mail experts know today's design specifications, postage rules, and barcode requirements. This attention to detail backed by 85 years of experience gives clients confidence that their mission-critical tasks are in good hands.
Economies of Scale: We've invested millions in high-performance equipment so you benefit from economies of scale and our ability to flex with your needs.
Compliance: From bank collateral, statements, invoices, and checks to tax forms and HIPAA documents, we routinely handle highly sensitive printing and mailing projects.
Our team has specialized in content and process automation since 1936.
A dedicated

client service manager

guides the process, troubleshoots, and problem solves.

Certified technical architects

and developers build client-specific integrations with your ERP, CRM, AP – any System of Record.
State-of-the-art, high-capacity equipment delivers jobs with precision, high quality, on time, all the time.
Our Intelligent Document Tracking system manages and reconciles documents per your Service Level Agreement.
Scalable

document

processing

optimized for high-volume work.
Working with sensitive, regulated information, we have stringent levels of security and compliance including SOC 2 and HIPAA.
We insure proper secure routing with encryption and permission-based access.
Connecting your mailroom service across internal and external business workflows.
Digitizing backfiles is time-consuming. Our team takes care of everything from prep to converted file delivery.
We have several other services available: Document Storage, Document Destruction, Lockbox Processing and Vehicle Title My WaySM.